Replacement windows for your house Minneapolis house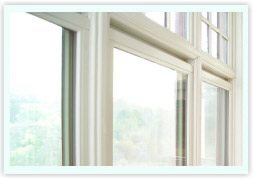 Metro Siding serves the greater Twin Cities of Minneapolis and St. Paul. To schedule a replacement windows estimate for your house, just call 763-557-1808, or contact us.
Looking for a Minneapolis St Paul replacement windows company?
Replacement windows contractors are not alike. The stet and installation experts at Metro Siding in Minneapolis will help you make sense of the dizzying array of house windows materials, features, and options. Our company will help you compare brands, sort through the jargon, and make a smart decision based on what matters most to you: appearance (style, color, finish, material), warranty, price, maintenance, and environmental impact.
Vinyl, wood, fiberglass, and composite house windows
Metro Siding installs a complete selection of replacement windows designed to perform in Minnesota's demanding climate. We'll help you weigh the pros and cons of different types of house windows - vinyl, wood, fiberglass, engineered wood, and composites. Prices for replacement house windows can vary widely, depending on the material and manufacturer. We'll work with you to find replacement windows that fit your house and your budget.
Expert Installation
3-year warranty on labor. Choosing the right replacement windows for your Minneapolis house is only half of the equation. The other half is proper installation. Our replacement window installers are some of the best in Minneapolis. (Actually, we work throughout the Twin Cities). So good, in fact, that we guarantee workmanship for 3 years
Neat and Careful. Our window crew take care to protect plants and landscaping during installation and clean up the site at the end of every day. Most replacement window projects take only a day or too, and can be done any time of the year.
Benefits of Replacement Windows
Energy Efficiency. When you replace your house windows with EnergyStar® rated windows you can expect fewer drafts, more comfort, and lower energy costs.
If you are concerned about energy efficiency, replacement windows are only part of the equation. Contact the Center for Energy and Environment and ask for a home energy analysis. The Center is a non-profit organization that provides home energy analysis and home tightness inspections at a modest cost.
If you do your homework, you will probably learn that the most cost-effective way to improve the energy efficiency of your house is to properly insulate the attic and make sure gaps and cracks around the foundation, windows, and doors are properly sealed and weather stripped.
Less maintenance. Many people get fed up with the twice a year ritual of swapping out old-fashioned storms and screens. Double-pane and triple-pane replacement windows do not require a storm window at all, and most can be ordered with screens that pop out easily for washing and storage.
Easier to Clean. Do you love clean windows, but hate climbing the ladder? Most types of replacement windows tilt in for easy cleaning. Clean both sides of the windows from inside the house!
Beauty and Curb Appeal. Replacement windows or new storm windows can make a dramatic impact in the overall appearance of your house. Don't forget the "before and after" pictures - you'll be amazed at the difference.
Storm Windows
A good storm window can significantly reduce drafts, improve energy-efficiency, and protect wood windows from the elements.
For older homes with wood windows that are still in good shape, window restoration and quality storm windows is sometimes a practical and beautiful alternative to replacement windows - improving energy-efficiency, ease-of-use, and aesthetics, without throwing away the original windows, or compromising architectural detail and accuracy.
Some types of storm windows come with full screens. If you have traditional double-hung windows that open from the top, a full screen allows hot air to escape, while cooler air from the outside circulates in from the bottom. A full screen improves ventilation, allows the house to cool off at night, and reduces the need for air conditioning.
Storm windows are also available with special coatings that allow light in during the winter and prevent heat from penetrating in the summer.
How to choose energy efficient replacement windows for your house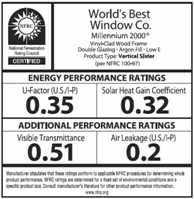 The National Fenestration Rating Council (NFRC) has developed a window rating system for house windows. The NFRC label provides the only reliable way to determine the energy efficient properties and to compare house windows.
The best resource for information on the web about energy-efficient replacement windows for your Minneapolis house is the Efficient Windows Collaborative.
The Efficient Windows Collaborative website was developed jointly by the University of Minnesota, Alliance to Save Energy, and Lawrence Berkeley National Laboratory. The Collaborative conducts research and provides unbiased information on the benefits of energy-efficient windows, descriptions of how they work, and recommendations for their selection and use. It also provides information on tax credits and utility programs that are available to homeowners who install energy efficient replacement windows in their houses.
Metro Siding will help you choose the right replacement windows for your house in the Minneapolis St Paul area.
We understand that choosing the right windows for your house is a balancing act, one where you must weigh many different concerns: cost, payback, aesthetics, warranty, and energy-efficiency.
The right window depends on your priorities and the architectural style of your home. That's why we install replacement windows and storm windows from a variety of window manufacturers including Marvin, Larson, Pella, Anderson, Hayfield, Atrium, and others.
Chances are you'll be living with the replacement windows in your house for a very long time - maybe a lifetime. We get that. That's why we're committed to answering all your questions about house windows. There's never any hurry or pressure. Ever.
Metro Siding is your St. Paul and Minneapolis replacement windows contractor
Metro Siding, Inc.
17258 Ulysses St. NW
Elk River, Minnesota 55330
Phone: 763-557-1808
Fax: 763-557-1125
Contact Metro Siding for a replacement windows estimates online
Siding | Gutters | Soffit & Fascia | Architectural Mouldings | Replacement Windows