Minneapolis-St. Paul Soffit Contractor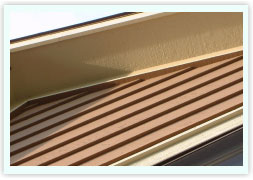 Metro Siding serves the entire Twin Cities area. We repair, replace and install soffits, siding and fascia in Minneapolis, St Paul and suburbs. To schedule a consultation or estimate, just call 763-557-1808, or contact us.
Wondering about your soffit options?
Should you repair your soffits, or replace them? The product and installation experts at Metro Siding will help you make sense of the dizzying array of soffit materials and choices. Our company will help you compare brands, sort through the jargon, and make a smart decision based on what matters most to you: durability, appearance, warranty, price, maintenance, and environmental impact.
Metro Siding has a range of soffit options suitable for any style of home. We'll help you decide whether you should repair your soffits, or if it's time to replace them.
Serving Minneapolis St. Paul since 1988
Metro Siding offers a complete selection of replacement soffits designed to perform in Minnesota's demanding climate. We'll help you weigh the pros and cons of different soffit materials - vinyl, aluminum, steel, fiber cement, real wood, engineered wood, and composites.
Expert Soffit and Fascia Installation
3-year warranty on labor. Choosing the right soffit material is only half of the equation. The other half is proper installation. Our soffit installers are some of the best in the Minneapolis-St Paul area. So good, in fact, that we guarantee workmanship for 3 years.
Neat and Careful. Our expert soffit crews take care to protect plants and landscaping during installation and clean up the site at the end of every day.
Soffit vents help prevent ice dams, reduce energy costs
Soffit vents are a critical component of your attic ventilation system. Soffit vents allow outside air to enter the attic from below the roofline, and circulate through the attic. In winter, the attic stays cold enough to prevent condensation that causes ice dams and moisture problems. In summer, soffit vents prevent the attic from becoming a hot box, help keep living areas more comfortable, and reduce air conditioning costs. For more information about how soffits contribute to proper attic ventilation, contact us for a free consultation.
Our no-pressure soffit experts will help you make the right decision
Chances are you'll be living with the soffits on your home for a very long time - maybe a lifetime. We get that. That's why we're committed to answering all your questions about manufacturers, brands and soffit installation. There's never any hurry or pressure. Ever.
Metro Siding is your Minneapolis and St. Paul soffit contractor
Metro Siding, Inc.
17258 Ulysses St. NW
Elk River, Minnesota 55330
Phone: 763-557-1808
Fax: 763-557-1125
Contact MetroSiding for soffit estimates online
Siding | Gutters | Soffit & Fascia | Architectural Mouldings | Replacement Windows