Minneapolis-St Paul Architectural Mouldings Contractor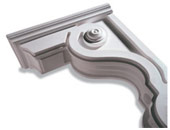 Metro Siding provides exterior remodeling services to the greater Twin Cities of Minneapolis-St. Paul. To schedule an estimate for siding, windows, exterior architectural mouldings, soffits, gutters, or downspouts, just call 763-557-1808, or contact us.
Looking for a Twin Cities exterior remodeling company?
All exterior remodeling contractors are not alike. The product and installation experts at Metro Siding will help you understand different exterior architectural moulding options.
Fypon® Urethane Architectural Mouldings and Millwork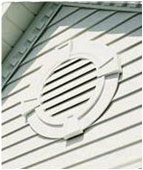 Metro Siding installs Fypon® architectural mouldings - high-density urethane products that complement any style home, from historic, to traditional, to contemporary. Urethane is poured or injected in a liquid state into custom molds. Once in the molds, a chemical reaction occurs, causing the urethane to expand and quickly harden. When fully formed, the products are removed from the molds, cleaned up and given an exterior grade ultraviolet (UV) coating to enhance stability.
An alternative to wood architectural mouldings. Fypon has a complete line of exterior millwork products: decorative millwork, interior and exterior mouldings, window trim, entrance trim, eave vents, balustrade systems, columns, and louvers. Fypon products have a closed cell structure that prevents water penetration and absorption: they are insect and rot resistant and come primed and ready to paint with a high grade latex exterior paint.
Painted or Wood Grain Pattern. Fypon architectural mouldings can be painted any color to match the exterior of your house. Many mouldings and louvers come with a woodgrain pattern and texture molded into a product that can be stained to match doors, trim, or other architectural details.
Louvers, Columns and more. Fypon manufactures a variety of functioning louvers and patented E-Vent™ systems that increase air flow in the attic of the home.
Wood Architectural Mouldings

Metro Siding also installs wood architectural mouldings from the finest millwork suppliers in Minneapolis-St Paul. For green remodeling projects we often work with suppliers who specialize in salvaging historic wood moulding and trim.
Expert Installation
3-year warranty on labor. Our three full-time exterior remodeling crews are some of the best in the Minneapolis-St. Paul area. So good, in fact, that we guarantee workmanship for 3 years. Our employees are licensed, bonded, insured. We do not use sub-contractors to install exterior architectural mouldings.
Neat and Careful. Our expert crews take care to protect plants and landscaping during installation and clean up the site at the end of every day.
Metro Siding is your St. Paul and Minneapolis architectural mouldings installer
Metro Siding, Inc.
17258 Ulysses St. NW
Elk River, Minnesota 55330
Phone: 763-557-1808
Fax: 763-557-1125
Contact MetroSiding about your exterior moulding project
Siding | Gutters | Soffit & Fascia | Architectural Mouldings | Replacement Windows